Community Profile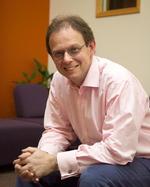 David Molian
Senior Lecturer and Director, Business Growth and Development Programme
Cranfield School of Management
David is a Senior Lecturer and the Director of Cranfield School of Management's Business Growth & Development Programme - BGP, the UK's largest programme for ambitious entrepreneurs. He has been involved with entrepreneurship education at Cranfield since 1998, and has mentored numerous fast-growth businesses. Within the Bettany Centre he leads initiatives in executive education and is director of the Coutts Private Banking Academy Entrepreneurs Programme.
David trained in consumer goods advertising and has been personally involved in the founding and sale of three businesses. He has served on the faculty of Imperial College and, as visiting faculty, at INSEAD and London Business School. David was educated at the universities of Oxford and Aix-en-Provence, and holds an MBA from Cranfield School of Management.
From 2009 - 2011 he chaired the Board of the Cranfield Management Association and was a member of the Advisory Board of Peter Leach LLP, the leading UK firm of family business advisors. For a number of years he worked closely with the senior management development functions of Unilever across business divisions and internationally. He is a Criticaleye Thought Leader, and advisor to Coutts & Co.
David has published extensively on issues involved in marketing and business start-up, and is a prolific author of cases. These feature lessons learned from some of the UK's most successful entrepreneurial businesses. In 2002 (with colleague Robert Brown), he was awarded the EFMD case-writing prize for his study of Hotel Chocolat, a Sunday Times Fast Track 100 company whose MD attended the Business Growth Programme in 2000. That success was repeated with the IViewCameras case in 2005 and yet again in 2009 with Pacific Direct, with co-author Robert Brown. In 2010 with Bettany Centre co-author Dr Stephanie Hussels he was awarded a further EFMD prize for the GoApe! case study. He has contributed numerous pieces to The Financial Times, the Sunday Times, The Director and many other national and international publications.
Areas of Interest
- Entrepreneurship as an academic discipline
- Company founders
- Fast-growth businesses