Community Profile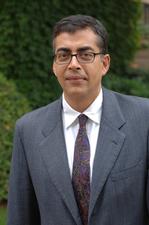 Pankaj Ghemawat
Professor of Strategy Management
IESE Business School, Spain
Pankaj is the Anselmo Rubiralta Professor of Global Strategy at IESE Business School. Between 1983 and 2008, he was on the faculty at the Harvard Business School where, in 1991, he became the youngest person in the school's history to be appointed a full professor. Ghemawat is also the youngest 'guru' included in the guide to the greatest management thinkers of all time published in 2008 by
The Economist
. Other recent honours include the McKinsey Award for the best article published in the
Harvard Business Review
and the Irwin Educator of the Year award from the Academy of Management.
Pankaj is a specialist on globalisation and strategy and emerging markets as well as having done foundational work on sustainable competitive advantage, competitive dynamics and strategic investment. His latest book on globalisation, World 3.0 (Harvard Business Review Press, 2011) should, according to
The Economist
, "Be read by anyone who wants to understand the most important economic development of our time."
In 2013, Pankaj was ranked 11th in the
Thinkers50
, the definitive listing of the world's top 50 business thinkers. World 3.0 also won the Thinkers50 award in 2011 for the best business book published in the last two years.
Areas of Interest
- Globalisation
- Global strategy
- Emerging markets
- Sustainable competitive advantage
- Competitive dynamics
- Strategic investments