Community Profile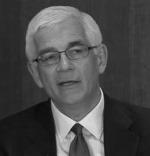 Brian Stevenson
Board Mentor
Criticaleye
Brian is a Criticaleye Board Mentor who had a successful executive career in Financial Services and has now established a plural career of Non-executive Director and advisory roles.

He joined the Board of Investec Bank plc in September 2016 as Senior Independent NED and served on the Prudential, Audit and Conduct Committee, the Risk and Capital Committee and the Audit Committee. In April 2018 Brian then moved to become Chair of Investec Bank plc. In June 2021 it was announced that Brian would also join the Group board as a non-executive director and become a member of the Group's Board Risk and Capital Committee as well as the Nominations and Directors' Affairs Committee. He is also currently a NED and Chair of the Audit Committee of Westpac Europe, the European subsidiary of Westpac Banking Corp.

He is an Advisory Board Member of Lysis Financial Ltd, a company specialising in risk, compliance and related governance solutions for financial institutions, and NED of New Model Identity (trading as ShowUp) which is a technology start-up tackling the issue of identity fraud.

Previously Brian was a NED at The Agricultural Bank of China (UK) Ltd, the UK based subsidiary of The Agricultural Bank of China, one of the largest banks in the world. Here, Brian served as Chair of the Risk and Remuneration Committees and as a Member of the Audit Committee. He was also previously a member of the Supervisory Board of Deutsche Bank Nederland NV, Chair of the Audit Committee and a member of the Risk Committee. Brian was Chair of the Trustees for Pancreatic Cancer Action from 2012 to 2017, a charity primarily concerned with increasing awareness of Pancreatic Cancer and improving funding.

Brian was a Senior Advisor to Worldpay Group plc, one of the world's largest Merchant Acquiring businesses. The business completed an IPO in 2015 having been majority owned by Bain Capital and Advent International. Brian was a Member of the Risk Committee and his primary role was to advise on risk-related matters.

Prior to these Non-executive roles, Brian was CEO and then Chair of Global Transaction Services – the Trade Finance, Payments, Cash Management and Merchant Acquiring Division of The Royal Bank of Scotland (RBS). Brian joined RBS in 2004 as Managing Director, Head of Corporate and Institutional Banking. From 1992 to 2004 Brian was with Deutsche Bank, as COO of the Global Banking Business in London and then Regional Head in Hong Kong, where he was responsible for 16 countries in Asia Pacific. His early years were spent at Barclays Bank in the UK and the USA.

Brian is married with two sons and enjoys watching rugby, playing golf and is an active cyclist.