Community Profile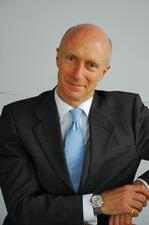 Stephen Pain
VP Strategy Stewardship
Unilever plc
Stephen is VP Strategy Stewardship at Unilever plc, one of the world's largest consumer-goods companies. He has extensive experience in corporate communications and organisation change, working across a range of leading FTSE-100 companies. He leads the internal and external communication of Unilever's purpose-driven, sustainable growth strategy and Connected for Growth (C4G) – the company's transformational change programme. As a self-confessed 'joiner-of-the-dots', Stephen established a research-based communications strategy upon which Unilever's integrated approach to global communication was established. He business partners the Chief Marketing and Communications Officer and the Chief HR Officer and is a member of the HR Leadership Team.
Stephen's own purpose is
'…being with others to grow something good'
. He is expert in helping organisations leverage communications to become faster, simpler and have more impact through increased agility, flexibility and cross-functional teamwork. Prior to joining Unilever, Stephen was the Principal of Age of Good ®, a specialist strategic communications consultancy. He was formerly Group Corporate Affairs Director of Aviva plc, one of the world's largest savings, investments and insurance groups. He led the communications team during the merger and integration of CGU and Norwich Union in 2000 and then, in 2002, launched the Aviva brand. Subsequently, he was the architect of the Group's transformation from 40 brands to one global brand - Aviva. Prior to that he was Corporate Affairs Director at retail group, Storehouse plc, and at Severn Trent Plc, the water and waste services company.
He is a Visiting Executive Fellow at Henley Business School, where he contributes regularly to MBA programmes and co-writes papers. e.g.
•
Better Balance: a psychological approach to the problem of sustainability
•
Extending the Better Balance model: how psychology could help to solve the problem of sustainability.
He is a Fellow and former secretary of the Investor Relations Society and sits on the Advisory Board of Criticaleye.