Community Profile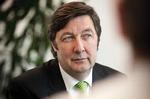 Anthony Fry
Non-executive Chair
Wessex Archaeology
Anthony Fry is the new Chair of Wessex Archaeology, having stepped down as Chair of the Premier League, CALA and Dairy Crest as a result of a serious illness. He was previously Chair of Finance for the BBC Trust, as well as Non-executive Director on boards including Mowlem, Control Risks, The British Standards Institution, Project Associates and Southern Water as well as numerous not-for-profit organisations. Anthony is currently on the advisory boards of Board Intelligence and Clatterbridge Appeal Board (a cancer charity in Liverpool).

Until March 2011, he was Senior Advisor of Evercore Partners in the firm's London office. He has previously held senior appointments at Lehman Brothers, Credit Suisse and the Rothschild Group in a career in merchant banking which has spanned more than 30 years. In March 2011, he was appointed Chair of Espirito Santo Investment Bank and the Senior Advisor to the Board, from which he stepped down in 2015.

During an 18-year career at the Rothschild Group, Anthony advised governments in the UK, New Zealand and Pakistan on their privatisation programmes, in particular the IPOs in the UK of the 12 regional electricity companies, Southern Water, Rolls Royce and British Steel. In the early 1990s, he was responsible for structuring the UK's National Lottery and ran one of the bids for the first licence in 1994. From the late 1990s, he was the head of Credit Suisse's global media business where he advised media corporations around the world before moving to head up the London-based operations of Lehman Brothers in 2004, where his advisory roles included the LSE through five takeover bid defences in a period of global consolidation.

Anthony has sat on the Appeals Panel of the Panel on Takeovers and Mergers and was appointed by HM Treasury to serve on the appointments panel for the valuers for Northern Rock, Bradford and Bingley and Dunfermline Building Society.

In addition to his business activities, he has sat on numerous not-for-profit boards including as: Vice Chair of The British Lung Foundation; Tomorrow's Company; The London Academy of Music and Drama (LAMDA); The Natural History Museum; The Edinburgh International Television Festival; The Sixteen; Paintings in Hospitals; the English National Opera; The National Film and Television School; and the chair of Development at The School of African and Oriental Studies (SOAS).