Advisory Membership
Criticaleye, the Community of Leaders, was established in 2003 with the aim of helping leaders across industry sectors resolve business issues and develop strategies for success via peer-to-peer debate and discussion. Through this managed network, we support our Members by providing a safe and secure space for them to ask questions and discuss solutions, while ensuring that they have access to cutting edge research and multimedia business intelligence. As a unique platform for the UK's most ambitious business community, Criticaleye provides the ideal opportunity for our Advisory Partners to position themselves as thought leaders while developing new business relationships.

Criticaleye Membership Breakdown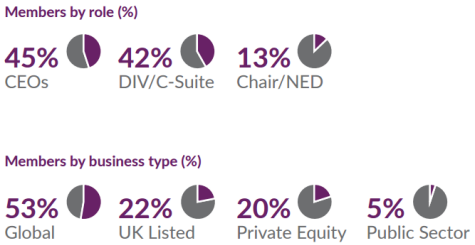 Criticaleye's audience extends far beyond our impressive community of Executive Members, Board Mentors and Global Thought Leaders. We communicate with more than
6,000 Directors weekly, with regular updates sent to 52,000 leaders worldwide
. Our ability to reach and engage with chairmen, NEDs and executive board members of the FTSE 100, FTSE 250, FTSE small cap, AIM, private equity and public sector makes us the best channel into the boardroom for your brand!
Please telephone us on
+44 (0) 20 7350 5101
or email us at
info@criticaleye.com
if you wish to discuss our Advisory Membership offering.
End